Renting A Car Overseas: Useful Travel Tips
As the rules lift and travelling goes back to normal, it feels like every day is holiday season these days. What better way to travel than taking a road trip? When you rent a car, you unlock a whole host of benefits that you would not get access to if you were taking an Uber or public transport. For example, you can create any schedule you like, or even take a path off the beaten road if your heart desires. 
Before you do rent a car, however, there are a few key things we suggest being mindful of. Here, we have rounded up the top 5 things you should keep in mind when renting a car overseas: 
Make sure you have the right documents
There are 2 main documents that you will require when renting a car overseas — insurance and, of course, your driving licence. 
You may be surprised to know that your Singapore driver's licence may not be accepted everywhere abroad. Some countries require you to present an International Driving Permit (IDP), which is a document that you can conveniently apply for with the Automobile Association of Singapore. This can be done either online, or by walk-in to their centre.  
As a quick round-up, here are the documents you will need to provide in order to obtain an IDP: 
A valid Singapore driving licence and IC

Foreigners to present a valid Singapore driving licence and Employment Pass with at least 6 months validity 
The IDP may be used in all countries listed here.

Secondly, you will probably be offered insurance by the rental company when you are renting the car on location. It is important to make sure that the insurance covers these three factors: 
Coverage for vehicle damage

Coverage in the event of injury to the driver or others

Third party coverage— covering damage for the other driver and passengers if you are in an accident
While purchasing insurance is "optional" and always a pricey add-on, it is always better to be safe, rather than sorry. After all, accidents cannot be predicted, and future-proofing to protect yourself is never a bad thing.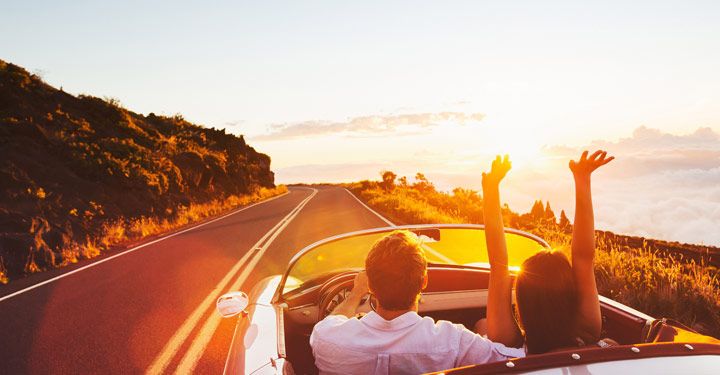 The most important thing to consider when choosing the right vehicle is safety. Depending on the terrain that you intend to drive in, you should pick a vehicle that will ensure the driver and all passengers are comfortable.
Here are some things that you definitely do not want the vehicle to lack when road tripping: 
Air conditioning or heating, depending on the weather conditions

Adjustable seating — everyone should be comfortable, especially if it's going to be a long trip

Sound system, because great tunes are a huge part of making the experience fun

A navigation system so that there's no fighting about which direction to take
Beyond comfort, you should also consider a vehicle that has working safety features, such as the airbags, seatbelts, and backup cameras. Don't forget to check with the rental company about these features before you leave! 
Consider your parking options 
This applies especially if you will be driving through Europe. Since most European countries put a heavy emphasis on public transport, parking can often be a problem. 
From expensive overnight parking to just simply a lack of availability, you might find yourself in a tough spot when trying to arrange parking for your vehicle. Often times, available options can be exorbitantly priced and not worth the cost when you are budgeting.

It's always a good idea to call ahead and check with your accommodation on the parking options available, so that you aren't stuck once you actually rent the car. 
On the other hand, you rarely have to worry about this issue if you're heading to the United States, but it's always good to check, nonetheless. 
When picking up the vehicle, you should make sure that you are asking the right questions and paying attention to the vehicle, to avoid additional charges that you may be liable for. 
Is the car that you have accepted the same make and model as what is listed in the rental documents? 

Are all signs of wear and tear (dents, scrapes, scratches) accounted for?
And lastly, when you return the vehicle, you should monitor your card statements in the following days to make sure that you have not been charged any additional fees that were not previously signed off on.
Be respectful of local regulations
Depending on where you're going, it's possible that local laws differ to Singapore's laws. Before you leave, you should do your research on things like speed limits, speed cameras, and how to interact respectfully if you are stopped by local authorities. 
And most importantly, have fun! 
Pack your snacks, create your playlists, and get ready to have the time of your life, because renting a car overseas is going to ensure that you and your travel buddies have an adventure.

Will you be a renting car on your next holiday? Let us know in the comments! 
How do you feel about this?
You have reacted on

"Renting A Car Overseas: Useful Travel Tips"
A few seconds ago